INVESTOR RELATIONS
At Ironwood, we're focused on delivering differentiated medicines to patients. If we do this efficiently and effectively, we hope to generate outstanding returns for our shareholders, inspiring their continued support so that we can create more medicines and build an enduring pharmaceutical company. These are not small goals, but we believe they represent the best way to maximize long-term value for both patients and shareholders.
Read more
Hide
Being a shareholder of Ironwood is about more than owning our shares, it's about being an owner of our business. We want you to understand our decisions and actions, and we will strive to effectively communicate the opportunities and risks involved in our business at each step along the way.
Among Ironwood's shareholders are our own employees, and this ownership mentality influences our operations. Ironwoodians are careful stewards of the company's resources, whether making a go/no-go decision on a discovery program or booking travel to a conference. Every program is challenged to earn its way forward, and every employee is challenged to earn the right to pursue the goal we all - employees and other shareholders alike - aspire to achieve: making medicines that help people lead better lives.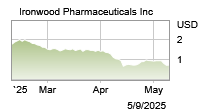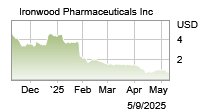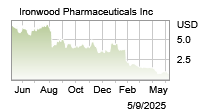 :   &nbsp&nbsp
Volume: &nbsp&nbsp Change:

Copyright Thomson Reuters Corporation
FEATURED REPORTS
Cyclerion Form 10 Filings
Events
Mar 14, 2019 at 2:05 PM EDT
Mar 11, 2019 at 4:10 PM EDT
IR CONTACTS
Meredith Kaya
Vice President, Investor Relations and Corporate Communications
617.374.5082
mkaya@ironwoodpharma.com
Auditors
Ernst & Young
200 Clarendon Street
Boston, MA 02116
617.266.2000
Transfer agent
Computershare Investor Services
P.O. Box 30170
College Station, TX 77842
800.662.7232
www.computershare.com